BCF23: Football Manager
BCF23: Football Manager is the spiritual and technological successor of the Barcode Footballer series, the beloved game launched in over 90 countries by established developer CYBIRD Co. 
In this brand-new but familiar game, players will be able to count on the exciting gameplay of the previous series together with the advantage brought by blockchain technology and P2E elements, such as the players as NFTs, competitive tournaments for the best team managers, training system for improving players, a marketplace where users can trade and improve their teams
Football World
As the most famous sport in the world, with over 3.5 billion fans, football holds a special place in people's heads and hearts. BCF23: Football Manager provides a chance for users to put their knowledge and will to the test, by giving them the opportunity to create their fantasy team and compete to become the best team in the world.
In the game you're a manager of the team, you need not only to acquire the best players but also to train and improve them, discover strategies and tactics to make the best of use of your team members, participate in practice matches and finally join the leagues and get a shot into the World Champion League. 
There are all sorts of ways to go around the game, focusing on negotiating the rarest players, training them to overcome and/or improve their strengths and weaknesses, becoming a tournament fanatic, and profiting with players rental. It's your Football World.
Players Acquisition
All players are represented by a card, that contains that player's skills, levels, rarity, and is minted as an NFT. 
There are two main ways of acquiring players in BCF23: Football Manager:
The gacha system is a mechanic where users can use in-game currencies to select and open a pack of digital cards with a chance to get new players, skills, and capabilities.
The marketplace lets users buy, sell, trade, and rent players with specific skills and capabilities.
Users can also get players by getting a high rank in tournaments, as well as participating in special promotions and events. Another feature to acquire players is named Fusion. With this one, users will be able to fuse two football players and acquire a new one, with superior skills and value. The cards used in the fusion are stashed in the game's treasury and can be reintroduced to the ecosystem of the game.
Making use of blockchain technology, all transactions on the marketplace are completely safe. Renting a player or even an entire team will be something that provides benefits for both sides without risking anyone.
The Path to World Champion - Tournaments and Strategies
Matches and tournaments are obviously a big part of BCF23: Football Manager and happen at different levels of competition. There are Exhibition matches and PvE matches that are held daily, the perfect opportunity for users to train and improve their players, and also the perfect ground for testing those risk strategies and seeing how they work out in preparation for Tournaments.
Official League Tournaments happen a few times per month, on this battle users face each other for tokens and the opportunity to acquire new players for their teams, based on their success. 
The final and biggest tournament of all is the World Championship. Held once a month, only the best teams can compete in it, which makes the competition in the League Tournaments even fiercer. Players acquire tokens and special players by participating in and finishing high in the rankings.
It's not an easy task to be a part of the higher ranks and even harder to stay at it. The best way to do so is by mastering Players' Skills and game strategies. Just like in the real game, the more a player trains and participates in matches, the more it will improve. Users can allocate skill points to not only customize but improve their players, making their strengths greater or overcoming their weaknesses.
Users can choose the make-up of their team, from starters to bench players. They can set up the best formation for each match. The composition of the team and the formation set-up are important strategies for winning.
$BFB and $GOAL - The Coins of the Game
BCF23: Football Manager uses two currencies at its core. The first one is $BFB and the second is $GOAL. They have different uses but both are fundamental to the mechanics of the game.
$BFB is the governance token for BCF23: Football Manager. Users can earn $BFB by playing the game and accomplishing game objectives (such as having a high rank in tournaments), staking their tokens, and participating in the game and community governance structure. 
$BFB can be used for in-game transactions (such as acquiring players via the gacha system or the marketplace, upgrading players, or participating in in-game events or tournaments), staking, and participating in the game and community governance structure.
$GOAL on the other hand is the in-game token in BCF23: Football Manager. Users earn $GOAL by completing in-game daily challenges, winning matches, and tournaments, renting out players, and other in-game activities. $GOAL can be spent on player and skill development, upgrading players, participating in tournaments, and other game-related activities.
If you want to know more about the tokenomics of this game currency, be sure to check BCF23: Football Manager Whitepaper on the links.
The Future of Football
BCF23: Football Manager intends to be more than a simple game, building a sports and entertainment metaverse around its community.
During Phase 2 of the project, users will be able to purchase lands. On these lands, starting as dirt fields, users will be able to build and grow practice facilities, training centers, stadiums, and in time MetaSports complexes.
Fields will have upgrade options, like planting grass, installing equipment, and vendor booths to sell team merchandise, with all the necessary tools to make your MetaSports complex, hosting practices, matches, tournaments (or even shows, and all sorts of entertainment activities) monetizing their ownership.
The lands will also give faster development of players from training, home field advantages, extra earnings from hosting/renting their fields, and more.
The MetaSports complexes allow BCF23: Football Manager to be more than just a fantasy football game, but a sports and entertainment metaverse, where users can compete, be entertained, and earn from their NFT ownership.
Getting Started
How to Play
1. ASSEMBLE YOUR TEAM: Acquire players with different rarities and skills from Loot Boxes, on the Marketplace, or by winning matches.
2. TRAIN PLAYERS: Improve players' skills through training and playing matches.
3. TRADE AND RENT PLAYERS: Trade or sell players on the Marketplace. Rent players from other managers to improve your team.
4. SET STRATEGIES: Manage your team's lineup. Find the best formation and tactics. Play smart to win!
5. WIN AND EARN! Compete and earn valuable rewards by winning PvP matches or tournaments. The grand prize - World Championship - is within your reach.
DOWNLOAD
Choose from the links below to download and play the alpha! Get exclusive rewards for playing and giving feedback!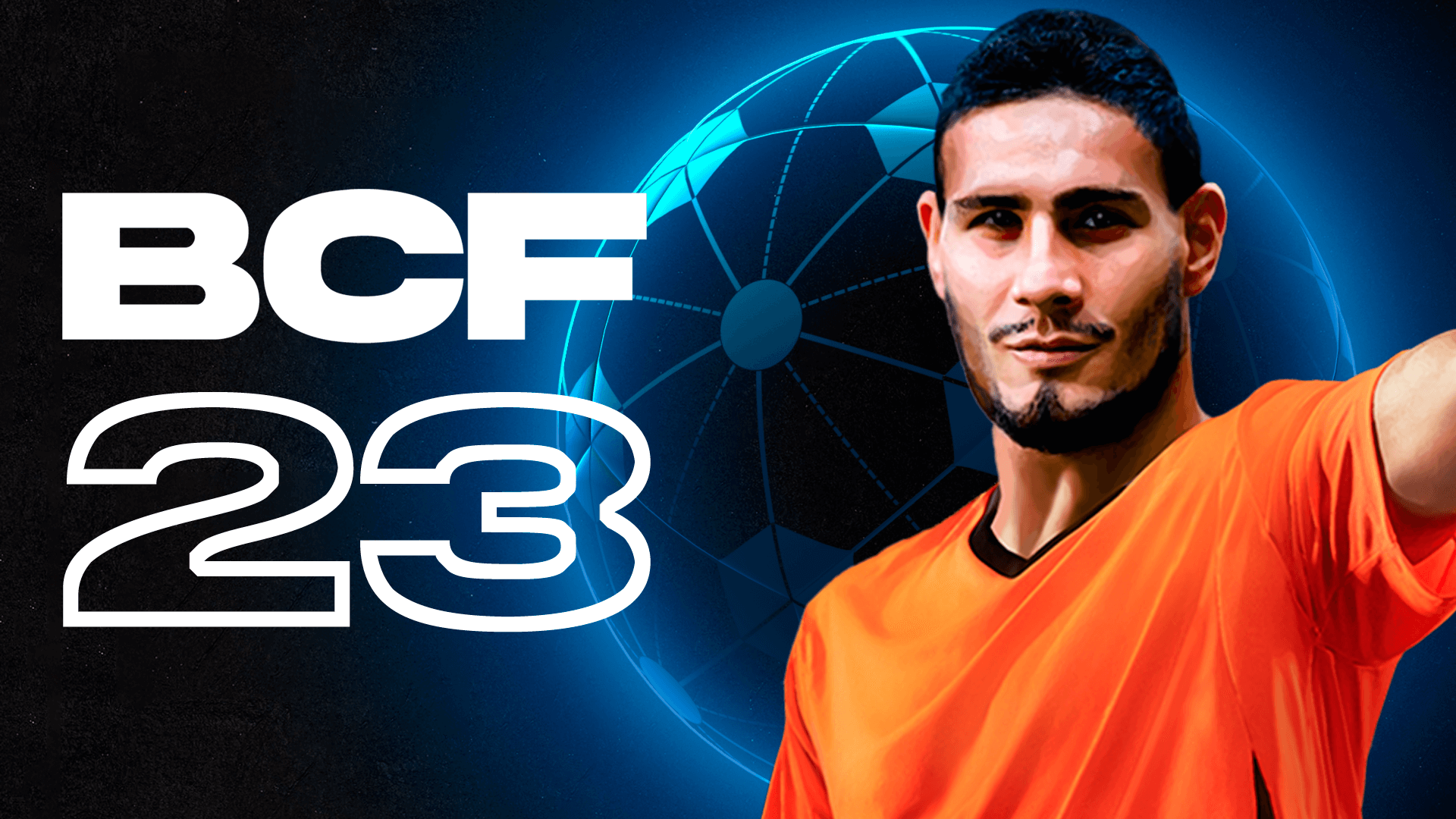 BCF23: Football Manager is a sports management game, with elements of PvP, PvE, evolving players and teams, tournaments, and lots of gooooooaaals!
Platforms
Android, iOS
Genres
Sports, Simulation
Chain
Polygon
Developer
CYBIRD
Tags